Az Inkák Aranya kiállítás
- Tickets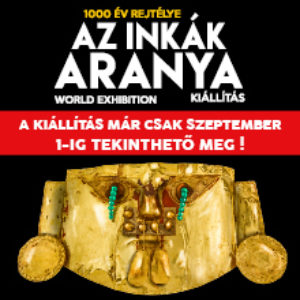 There are no active performances for this event!
Event details
The world's most valuable gold collection has arrived to Budapest!
The secrets of a distant, mysterious, outdated world empire are unveiled at JVS Group Hungary's latest large-scale interactive exhibition.
The priceless exhibition presents the original treasures of a once ruling nation of South America, through which we can gain insight into the closed world of an outdated civilization.
 The unique, almost unearthly works of art evoke the Inca culture flourishing before the arrival of Europeans, and show how the glitter of gold has made the whole world wonder.
These works of art, that will be represented at the exhibition are referred as cursed treasures by some cultures. Furthermore, it is recorded as UNESCO World Heritage.
Come and get to know this millennially closed culture! The main purpose of our exhibition is to get a comprehensive picture of the former Inca civilization and to make You feel the temptation of gold.
For the ultimate experience, we are waiting for you and your families with interactivity, virtual reality, VR corner and treasure hunt adventure programs.                                                                                    
Following the Titanic, BODIES and World Mummy Exhibition, JVS Group has brought to Hungary the biggest gold collection in the world, which will be seen in the downtown at Komplex from the 13th of March. (1061 Budapest, Király utca 26).