DAVID DUCHOVNY koncert
- Tickets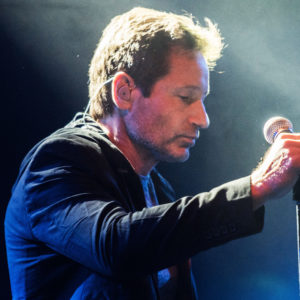 There are no active performances for this event!
Event details
David Duchovny in Concert!
February 11th, 2019 Monday at 8:00 PM
Budapest, MoM Sport

David Duchovny Meet&Greet Experience
Thank you for joining us for the David Duchovny meet and greet on February 11th 2019 at MOM Sport in Budapest.
The meet and greet with David Duchovny will begin promptly at 18:00 at the entrace of the Mom Sport venue at the Danubius Music VIP Flags. Please plan to arrive no later than 17:15 to allow yourself time to pass through venue check-in and security.
This meet and greet ticket includes:
- (1) photo with David Duchovny
- (1) autographed item of your choice
- VIP Soundcheck Experience
Multiple autographs will not be permitted.
- Early Entry to the venue
If you are running late please alert the venue as soon as possible. If you miss the meet and greet we will be unable to accommodate another time and unfortunately your ticket will not be refunded.
Cell phones, cameras, and other personal devices will not be permitted during the meet and greet. There will be a professional photographer to take your photo.
Thank you for joining us and we hope you enjoy!
GMG



When we hear the name, David Duchovny, we are all thinking of the twice Golden Globe awarded American actor, Fox Mulder agent of the X-files, Hank Moody of Californication and several other successful TV series, and film hits in which he starred.
This time he does not appear on the movie screens or on TV but we can enjoy his musical talent. As the singer of an alternative rock band, Duchovny imploded into the music life as quick as the sound of speed, and he very soon won the acknowledgement and admiration of the critics and the audience.
Video:
At his concerts he always brings down the house, and to our greatest pleasure his concert tour premises of 2019 have just been announced. The Hollywood star and his band will be on stage for the first time in Budapest. We can see the legendary charmer, David Duchovny on February 11, 2019 at the MOM Sport in the organization of Danubius Music.

The Public On-Sale starts on Friday, September 14. at 9:00 AM on the website: www.eventim.hu  and at the TEX ticket offices.

More information on David Duchovny:
Born and raised in New York City, Duchovny attended Princeton University and received his Masters Degree in English Literature from Yale. He was on the road to earning his Ph.D. when he caught the acting bug.
Subsequently, Duchovny emerged to become one of the most highly acclaimed actors in Hollywood.  The star of Fox Television's monster hit THE X-FILES, David was nominated for an Emmy for Outstanding Actor in a Drama Series, and, in January 1997, he won a Golden Globe Award for Best Actor in a Drama Series. He has been nominated for a total of three Golden Globes, three Screen Actors' Guild awards, and a TV Critics Award for Best Actor in a Drama Series.                 
David added the role of director to his already extensive list of accomplishments
when he wrote, directed, and starred in three critically acclaimed episodes of THE X-FILES, titled "The Unnatural," which starred Jesse Martin; "Hollywood  A.D.," starring Garry Shandling and actress Tea Leoni; and "William." Other directing credits include the Fox hit series BONES, as well as 6 episodes of CALIFORNICATION.
Duchovny's passion for renegade films has brought him critical acclaim for his performances in the feature films KALIFORNIA, in which he co starred opposite Brad Pitt, and THE RAPTURE, the controversial film directed by Michael Tolkin in which Duchovny starred opposite Mimi Rogers.
In 2002, Duchovny starred in the Miramax ensemble comedy FULL FRONTAL, directed by Steven Soderbergh, and which co-starred Julia Roberts and George Clooney. David made brief returns to television, first appearing in good friend Bonnie Hunt's show, LIFE WITH BONNIE, for which he was nominated for an Emmy in 2003. Following that, he made a memorable appearance on SEX AND THE CITY as an ex-flame of Sarah Jessica Parker's' "Carrie Bradshaw."
He made his feature directorial debut in 2005 with HOUSE OF D, a film he also wrote and appeared in. The film, which starred Robin Williams and Anton Yelchin, vividly captured the spirit of youth in all its joy and heartbreak.
His other long running series CALIFORNINCATION ended its 7 year run in 2014 for Showtime. Hank Moody marked another seminal character portrayed by David that has made its way into our pop culture lexicon and for whose portrayal he won a Golden Globe Award for Best Actor in a Comedy series.
His first novel HOLY COW was released by Farrar Straus and Giroux in February 2015 andhit the New York Times Best Sellers' list.  This was followed up by his second novel, Bucky F…… Dent, which also hit the New York Times Best Sellers' list, and was released globally in 2016.
In 2015, David completed his first studio album for titled, Hell or Highwater. His second album, Every Third Thought, was released in February 2018. David and his band have toured Europe, the US, New Zealand, and Australia and David plans to return to Europe in 2019 for another tour. David is currently in studio with his band working on a third album.
David reprises his award winning role as Fox Mulder January 3rd on The X-Files. His third book, Miss Subways, will be released globally in May of 2018, and David is planning on Directing and Producing his novel, Bucky F*cking Dent in 2018.
David splits his time between Los Angeles and New York. He remains the only actor to have won a Golden Globe for Best Actor in a Television series in both the Comedy and Drama categories.
Additional information/Cooperation partners