Loading...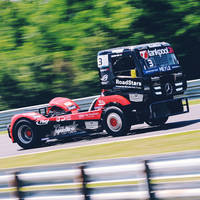 FIA Kamion Európa-bajnokság és Fesztivál
There are no active performances for this event!
Event details
V. FIA European Truck Racing Championship and Festival 2019. June 22-23 Hungaroring


The European Truck Racing Championship and Festival in Hungary
• 4 highly successful events (2015-2018)
• Tens of thousands of visitors every year
• Hungaroring's second biggest event
• Professional exhibition on 4500 m2
• Several hundred thousand spectators have followed the previous year's television broadcasts
• VIP Lounge above the home straight
• Activities for kids and street food zone – fun for the whole family
• Truck parade and camping
• Two-time European champion Hungarian racer: Norbi Kiss
• This year, a young, new racer will step on the tracks: Bendegúz Molnár from team OXXO

Programs for the whole family
Many exciting activities await children and adult alike at the 1000m2 air conditioned tent set up on the area behind the tribunes. Entry is free of charge with every ticket.


Additional information/Cooperation partners