Gregorian: Holy Chants Tour 2018
- Tickets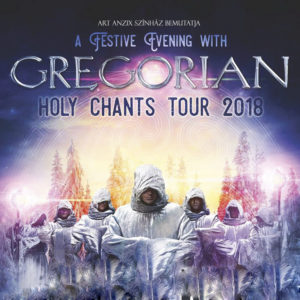 There are no active performances for this event!
Event details
GREGORIAN
Holy Chants Tour 2018
on December 13th, 2018 at 8:00 PM
Budapest, MoM Sport 
Please come and enjoy  Gregorian's fantastic concert on December  13th,
2018 from 8:00 PM at the  MoM Sport, Budapest.
The organizer of the Budapest concert is the Danubius Music Production Office.
The first seeds of the GREGORIAN concept were sown into the mind of, Hamburg music producer Frank Peterson, after taking a trip to the royal monastery of San Lorenzo de El Escorial in Spain in 1989. The medieval monastery and chateau made an indelible impression upon him. As he walked the grounds, chance would have it that he was also listening on his walkman to modern-day music. The stark contrast through time ignited the initial inspiration for Peterson to experiment in the mixing of ancient Gregorian music with modern day hits.
Peterson brought the idea to life for the first time with Michael Cretu with the worldwide sound phenomenon Enigma. The first album MCMXC a.D. appeared in 1990 and quickly became a worldwide success story. MCMXC a.D. was number 1 in 41 different countries and received 57 platinum and 45 gold medals. It is consequently considered the most successful German album of all time worldwide.
The success of Enigma prompted Peterson to take a step forward with his initial idea of GREGORIAN. He established GREGORIAN as an independent music act. Their first album "Masters Of Chant" followed Peterson's previous success with Enigma seamlessly. Over the following years GREGORIAN has sold over 10 million recordings worldwide with 17 CDs & 7 DVDs, and has achieved gold and platinum status in 24 different countries.
At least once a year, Frank Peterson delves into his extensive music collection in search of new repertoire. The selecting of songs for a project like Gregorian requires not only good intuition but also tact. "Not every song is suitable for the Gregorian Tone Scale," he explains, "so you have to be very careful in the selection process for Gregorian." All the more for us that Peterson's boundless ingenuity and immense repertoire of ideas seem to be inexhaustible. Meanwhile, the Gregorian repertoire consists of almost 250 songs, ranging from classical music by Carl Orff to pop standards of the last 40 years to contemporary rock acts like Metallica, Coldplay, U2 and even Rammstein.
There is little doubt that Gregorian has not only achieved a unity of all respective musical worlds but in doing so has created a new one in and of itself. Peterson invites the listener on a familiar journey with famous melodies, whilst successfully contrasting and entwining them in the timeless & wondrous world of Gregorian Chant.
The individual creativity of Frank Peterson is also reflected in the concert productions of GREGORIAN. Peterson produces breathtaking shows in arenas, theatres, and churches that thrill fans and critics in Europe, Asia, Africa and the Middle East. More than 2.5 million visitors have watched GREGORIAN live at their concerts in 25 countries. 2013 being the most successful year for music project GREGORIAN to date with over 150 sold-out concerts and for the first time ever breaking into China for 5 concerts.
To experience GREGORIAN live is to witness an audio and visual spectacle that in 15 years to date has never failed to procure a standing ovation from the public.
It is not however in producer and mastermind Frank Peterson's nature to sit back on his laurels. After 4 months of production, 2015 saw the final chapter of the Masters Of Chant Saga "The Final Chapter" climb to #8 in the German album charts. The accompanying tour led GREGORIAN to over 80 cities across Europe.
Released at the end of 2017 "Holy Chants" is the latest Album from GREGORIAN. Seasonally presented the album is accordingly a fittingly crisp and beautiful collection of winter time songs.
Frank Peterson was born in 1963 in Hamburg. After six years in Munich, Madrid and Ibiza, he now works in Hamburg and Key Biscayne, Florida. Peterson is founder of GREGORIAN and owner of Nemo Studios and omeN Music Publishing.
In addition to GREGORIAN, Frank Peterson has also produced i.a. artists such as Sarah Brightman, Andrea Bocelli, Enigma, Ofra Haza, Alannah Myles, José Carreras, Placido Domingo, Paul Stanley, Josh Groban, Tom Jones, Backstreet Boys, Marky Mark, Nevio und Sandra. He has also contributed to numerous compositions and productions of international film scores and advertising campaigns.
Additional information/Cooperation partners