Rhoda Scott 80. & Lady Quartet koncert
- Tickets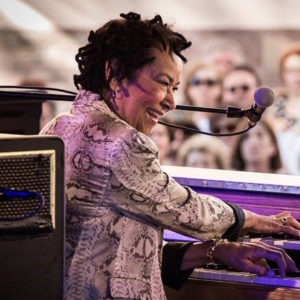 There are no active performances for this event!
Event details
Dear Customers,

we are sorry to announce that the Rhoda Scott concert planned to be held in the 11th of November in Budapest is cancelled.  

New concert date:
Confirm for the Rhoda Scott Lady Quartet on the 14th of april in Budapest!



Message from Rhoda Scott for fans of Budapest:

"Dear Fans,
I'm really sorry to announce this, but unfortunately I had an accident. 
I was put in the hospital.
I had surgery, but the doctors said that I need a longer rest to recover.
I'm really sad, that we can't celebrate together my birthday, but I'll be strong, I'll be better and as soon as possible and I'll come to Budapest in 2019 so we can have an amazing concert together.
With Love,
Rhoda Scott"
Rhoda Scott is one of the world's greatest jazz organists. Born in New Jersey, USA, the eldest daughter of an itinerant methodist minister, Rhoda grew up in the atmosphere of the black churches on the East Coast of the United States. While in the environment of many gospel singers, whom she accompanied beginning at the early age of 8, she acquired her incredible instrumental and vocal feeling.
Originally a self-taught musician, at the age of 25 she emerged from the Manhattan School of Music in New York with her Master's degree in music and honors for the highest scholastic standing in the graduating class.
She made her debut at Count Basie's Lounge in Harlem where she was "adopted" by all the big names in jazz.
Rhoda then went to Europe to continue her studies in composition, harmony and counterpoint with Mlle Nadia Boulanger in France. She played at the MIDEM in Cannes and her explosive international career took off.
 Having arrived at star status, she is enthusiastically and warmly received throughout the entire world today.
What is the reason for her success? She is a complete talent, equally at ease with classical music as with jazz, gospel and blues. Gifted with a prodigious memory, she composes and arranges a major part of her stage repertoire.
On stage, she has a charisma uniquely her own. As any great artist, she is entirely devoted to her art. Her greatest strength is that she is overwhelmingly appreciated by her contemporary jazz musicians as well as by the general public.
                                                                                                                "A great, a very great virtuoso"
Arthur Rubinstein
RHODA SCOTT
EDUCATION :
1)       Westminster Choir College, Princeton, New Jersey
a)       Member, Symphonic Choir (Performances under Herbert Von Karajan and Leonard Bernstein)
b)       Associate Alumnus (1955-1958)
 
2)       Manhattan School of Music, New York, New York
a)       Bachelor of Music (1966)
b)       Master of Music (1967)
c)       Recipient of the Borden Achievement Award For Academic Excellence 

3)       Kodaly School, Esztergom, Hungary Diploma (Summer 1975)

4)       Eastman School of Music, Rochester, New York
Jazz Studies Program : « Synthesizers, Samplers and MIDI System in Contemporary Music Applications »  (Summer 1988)

5)       Alliance Française, Paris, France
Brevet d'Aptitude à l'Enseignement du Français (1977)
TUTELAGE :
       Nadia Boulanger (France)
Harmony, Counterpoint, Composition
Richard « Groove » Holmes (USA) Jazz Organ
Mary Krimmel (USA) Classical Organ
Simone Choffel (France) Classical Organ
Suzanne Chaisemartin (France) Classical Organ
 PROFESSIONAL AFFILIATIONS AND HONORS
SACEM (Author – Composer)
OFFICIER DES ARTS ET DES LETTRES
ADAMI (administrator)
DJANGO D'OR Prix Franck Hagège