Schengenfest '12
- Tickets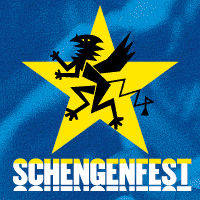 There are no active performances for this event!
Event details
SCHENGENFEST - FESTIVAL OF SOUND, SUN AND FUN!!!
3rd - 5th of  AUGUST 2012
Slovenia
Schengenfest is defined by quality concerts of Slovenian and foreign music performers as well as by numerous additional activities from sports to cultural events. Each year it aims to offer something new, whether group games or other fun activities. This year's focus will be ecology, so everything goes green. The aim will be to awaken the awareness of every festival participant, whether they are working or just having fun.
The festival offers three awesome days of camping near the beautiful river Kolpa, enjoying great music of different music genres and other daytime activities like festival adventure land, sports, and water games and so on. Organizers know how to pamper approximately 16 000 visitors as they know that cold drinks are a must on those hot august summer days and will also take care of a wide range of various gastronomic delights.
Regional Park Kolpa is situated at the river Kolpa, which streams along the Slovenian - Croatian border, the Schengen-border, which actually gave this international music festival its name. In only five years it became one of the biggest music festivals in Slovenia and it is gaining also on its international reputation.  Although river Kolpa separates Slovenia and Croatia, it actually has a far more important function of bonding.
The festival is of great importance for the region not only in cultural meaning, but has also a significant impact on tourism as well. In addition to the festival one can enjoy the unique nature and go sightseeing numerous cultural monuments, highly recommended are also the local gourmet experience, beautiful hiking trails and of course water activities from bathing to boating and fishing in the clean and warm Kolpa, whose temperature rises up to 24 degrees Celsius, sometimes also up to 28 and with this year's music program it might also come to a boiling point!
SCHENGENFEST - FESTIVAL OF SOUND, SUN AND FUN!!!
3rd - 5th of  AUGUST 2012
Slovenia