Two Days a Week 2012
- Tickets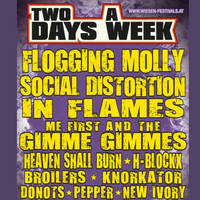 There are no active performances for this event!
Event details
Wiesen and it's great festival area, the "Ottakringer Arena," is one of Central Europe's most beautiful concert locations and one of its most relaxed towns.

Since the 70s, music fans from all over the world have been joining the festival pilgrimage to the strawberry republic in order to pay tribute to their favorite artists.

For dedicated disciples of the harder musical congregation, the Two Days A Week Festival is a mandatory date for excellent bands, festival feeling and party atmosphere in great profusion.
The confirmed line-up so far:
Friday:
23:05 - 00:35 Flogging Molly

21:20 - 22:35 Social Distortion

19:40 - 20:50 Angels & Airwaves

18:10 - 19:10 Me First And The Gimme Gimmes

16:50 - 17:40 Broilers

15:30 - 16:20 H-Blockx

14:20 - 15:05 Donots

13:20 - 13:55 Hawk Eyes

12:30 - 13:00 Seeds Of Blood




Saturday:
23:05 - 00:35 In Flames

21:20 - 22:35 Enter Shikari 

19:40 - 20:50 Heaven Shall Burn

18:10 - 19:10 All Time Low

16:50 - 17:40 Jennifer Rostock

15:30 - 16:20 Knorkator

14:20 - 15:05 Turisas

13:20 - 13:55 Thirteen Days

12:30 - 13:00 New Ivory